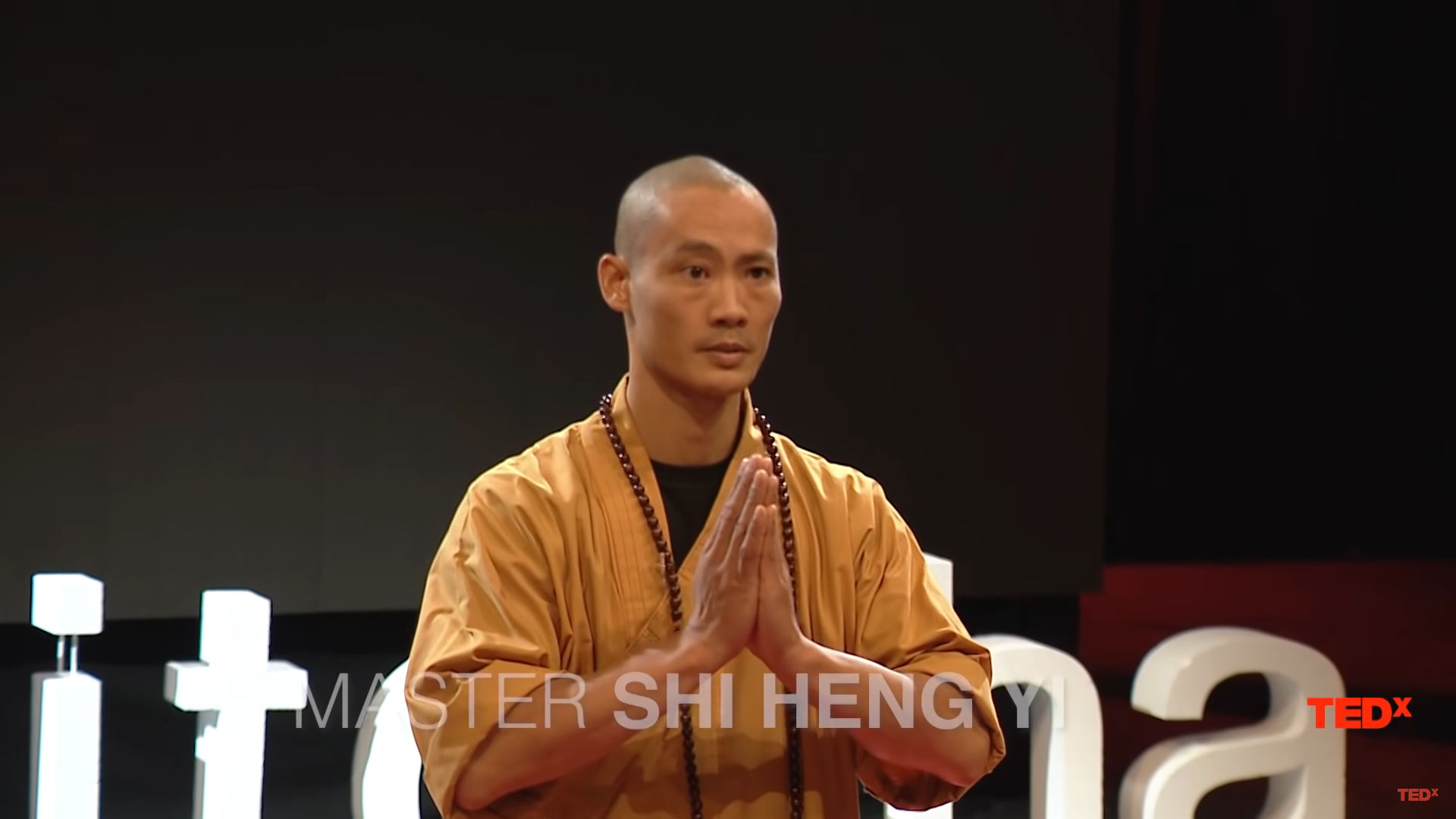 INTRODUCTION
Master Shi Heng Yi – 5 hindrances to self-mastery | Shi Heng YI | TEDxVitosha
Meet Shaolin Master Shi Heng Yi in his serene talk about self-discovery. Learn why rainfall is an essential part of each flowering. And every small step – part of the journey to the highest peek. The hindrances along the way to self-discovery and personal growth are easy to overcome. Learn how from his talk. For more than 30 years, Master Shi Heng Yi has been studying and practicing the interaction between mind and body. His strength is the ability to smoothly combine this knowledge with physical exercises and to practice Martial art –Kung Fu and Qi Gong. He has an academic background but he prefers to live at the Shaolin Temple Europe, Monastery located in Otterberg, Germany. Since 2010 he has been taking care of the settlement and he personifies the sustainable development and spreading the Shaolin culture and philosophy. As a contemporary monk, Master Yi holds a smartphone in the folds of his clothes as he sees no contradiction between living together with ancient knowledge and high technology. "The universal law of being successful and happy at the same time means finding the balance", says master Yi. And as for flying – yes, he really can do it! He only needs a stick and a little space. We expect him to fly-in and share about the Shaolin way at TEDxVitosha 2020. This talk was given at a TEDx event using the TED conference format but independently organized by a local community. Learn more at https://www.ted.com/tedx
CONTENTS
内容来自 Youtube 自动识别的字幕,可能有误。中文内容借助 DeepL Translator 和谷歌翻译进行加工,非常业余。
---
good morning!
it has been quite a privilege being able to grow up in two quite different ways of life
I was born in Germany
and at the same time had the chance to learn more about an ancient art coming from the Shaolin Temple
when you grow up in an Asian family it is quite common that
firstly you don't have you with your father
and secondly you either become medical doctor, engineer or lawyer elsewise your parents will be very unhappy
CHINESE

能在两种截然不同的生活方式中成长,是一件很荣幸的事。
我是在德国出生的
同时也有机会了解到更多来自少林寺的古老技艺
当你成长在一个亚洲家庭,这是很常见的
首先,你没有你父亲的陪伴
其次,你要么当医生,要么当工程师,要么当律师,否则你的父母会很不高兴的
so having that set
I finished my academic education with two university degrees MBA
and quite a collection of different certificates and diplomas
everything that my parents thought be useful to have
but throughout this education
I felt something was missing
because I was learning about many different aspects
how the plan is working
what an atom is made out of
how political system is functioning
but somehow the subject was missing to learn something about myself
CHINESE

所以,在这样的环境中
我以两个大学的 MBA 学位以及很多不同的证书和文凭完成了学业,
我的父母认为拥有这些非常有用。
但在整个教育过程中
我觉得少了点什么
因为我在学习很多不同的方面
计划如何运作
原子是由什么组成
政治制度如何运作
但偏偏缺少了解自己的主题
so with the age of four for the first time I got introduced into the monastic practices
and I was very happy to find out that the main part of these practices were dealing with the exploration and the discovery of yourself
there was mental training
development of behavior combined with the physical training
all aspects of what nowadays is known as shaolin kung fu
now despite the wishes of my parents to somehow go out in the market and try to manage the world
I decided to continue this monastic life and start learning more about myself first
CHINESE

所以在我四岁的时候,我第一次被介绍到寺院里去修行
我很高兴地发现,这些实践的主要部分都是关于探索和发现自己的,
有心理训练
行为发展与体能训练相结合
全部内容就是如今被称为少林功夫的东西
现在,尽管我的父母希望我以某种方式走出去,在市场上尝试着管理这个世界
但我决定继续这样的修行生活,先开始更多的了解自己。
now in the preparation for this talk
I was asked to share a few words on what is important in this lifetime
and see it's already challenging to put three decades into a single talk
but the picture I would like to show you
summarizes very much what I consider as being valuable in this lifetime
there is something about sharing with others
there is something about connection
there is the training and development of yourself
it is to enjoy your time even doing nothing
and one main aspect is to find a way and do the things you like to do
CHINESE

在筹备这次谈话的过程中
我被邀请分享几句关于人生中什么是重要的
看得出,要把三十年的时间放在一次谈话中已经很有挑战性了
但我想向您展示的图片
很好地概括了我认为这一生有价值的东西
与他人分享
与他人建立关系
还有就是锻炼和发展自己
闲来无事也要好好享受你的时间
最主要的一点是,想办法做自己喜欢做的事情。
now when I received the invitation to have a talk at today's event
especially under the slogan high higher highest
something very particular came up on my mind
and a master from the Shaolin Temple once told me a story that I would like to share with you
CHINESE

当我收到邀请要在今天的活动中发言时
尤其是在高大上的口号下
忽然想到了一件事
一位少林寺的大师曾经给我讲过一个故事,我在这里分享给大家
a man was living close to a mountain
and every day he was thinking how would it be to climb that mountain and what would I see on the peak
so finally the day came
and the man went on the journey
arriving at the foot of the mountain he met the first traveller
so he asked how did you get up the mountain and what did you see from the top
and so the traveler shared his path and also the view that he had
CHINESE

一个人傍山而居
他每天都在想:如果能爬上那座山,会是怎样的情景 ,在山顶我会看到什么
终于有一天
这人上路了
到了山脚下,他遇到第一个旅行者
他问:你是怎么上山的,你在山顶看到了什么?
所以这个旅行者分享了他的旅程,也分享了他的观点。
but then the man was thinking
the way that this traveler described to me sounds very exhausting
I need to find another way to climb
so he continued to walk on the foot of the mountain until he met the next traveler
so once again he asked
how did you climb up that mountain and what did you see from the top
and so again the traveler shared his story
CHINESE

但这人却在想
这位旅行者所描述的方式听起来很累人
我需要另找一条登山之路
于是他继续在山脚下行走,直到遇到下一个旅行者
他再次询问
你是怎么爬上那座山的,你从山顶看到了什么?
于是,这位旅行者再次分享了他的故事
still not being determined on which direction and which way to go
the man asked 30 more people 30 more travelers
when he finished talking to all of them he finally made up his mind
now that so many people already shared with me their pasts and especially what they all saw from the top
I don't need to climb there anymore
it is very unfortunate this man never went on the journey
CHINESE

仍未确定方向和路线
这人又问了三十多个人,三十多个旅客
当和他们都聊完后,他终于下定了决心
现在这么多人已经和我分享了他们的过去,特别是他们都从上面看到了什么
我不需要再爬到那里了
很不幸,这个人没有去经历这趟旅行
now to conclude this story
firstly each individual needs to find the most suitable way to climb that mountain
but secondly
there is information possible to be shared with words,
but it is impossible to share the experience of clarity when you are standing on that peak by yourself
to invest the right effort in climbing that peak
it's very much what all the Buddhist practices, the Shaolin training or any spiritual practice is about
clarity means you see more clear
when you see more clear, interrelations become more apparent
when you see more clear, there is no need to believe anyone or believe anything
seeing clear means you can distinguish for yourself
which is the proper direction to take and which decisions do I have to make
in order to make my goals or aspirations start to shape
CHINESE

现在总结这个故事
首先,每个人都要找到最适合自己的登山方式。
其次,
信息是可以用文字分享的
但是,你不可能清晰的分享站上那座山峰的体验。

奋力攀登高峰
佛家的修行,少林寺的修行,任何修行都是如此

清晰意味着您看得更清楚
当你看得越清楚,相互关系就越明显
当您看得更清楚时,就无需相信任何人或任何东西

看得清楚意味着你可以自己分辨
为了使我的目标或理想开始成形,我应该采取哪些正确的方向,我必须做出哪些决定
now at today's talk you will have the chance to become inspired by quite a lot of different travelers
but in this particular talk I can't and I won't tell you which way to go
it's just that along your personal journey
you will encounter challenges
those challenges will either prevent you or some of them even stop you from moving on and climbing that mountain
in the shaolin temple we refer to them as the five hindrances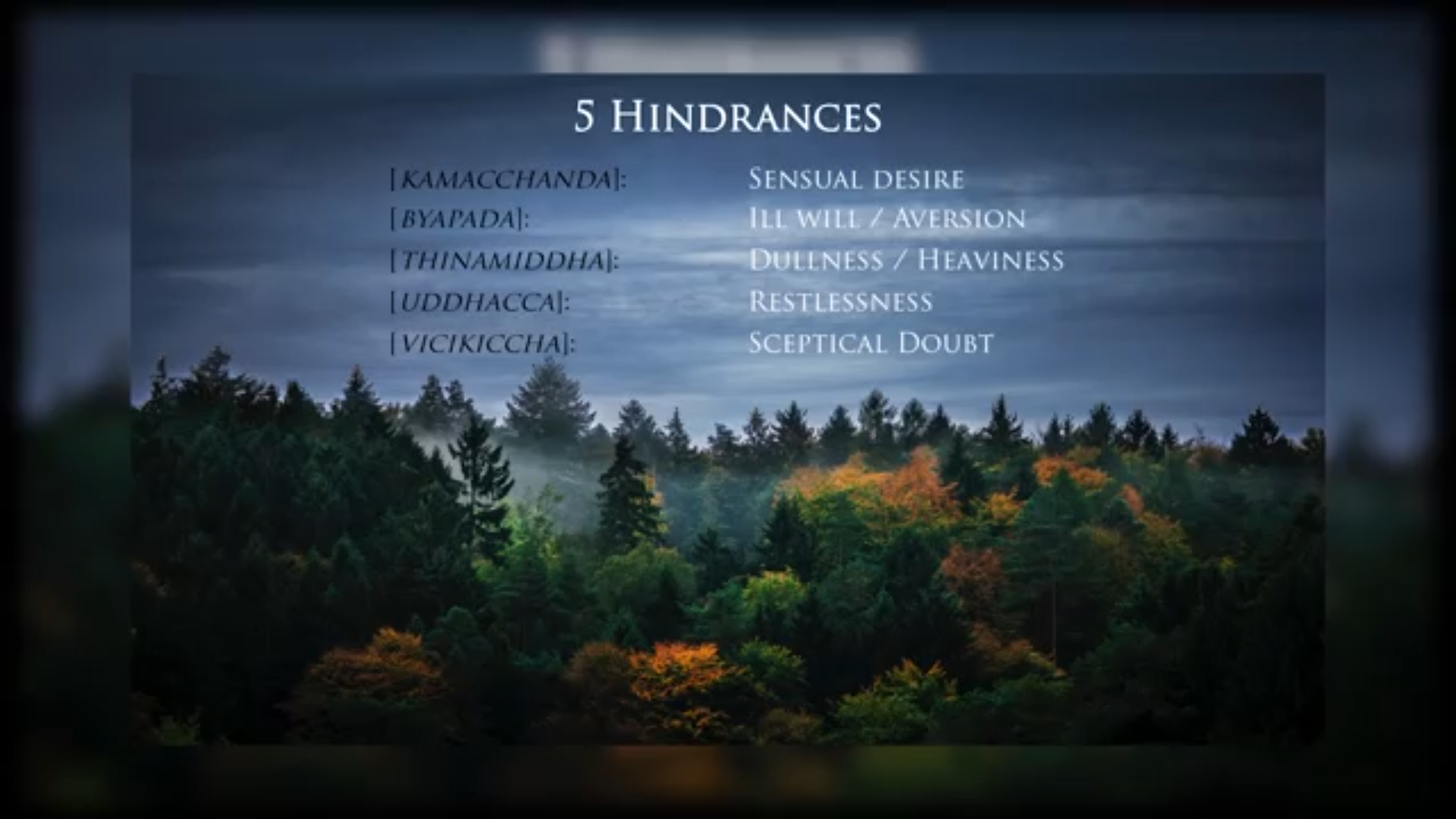 the five hindrances are describing different states of the mind
in those state of the mind it becomes very hard to see clearly and therefore engage in the right decisions
CHINESE

在今天的讲座中,你将有机会从很多不同的旅行者身上得到启发。
但在这个特殊的谈话中,我不能也不会告诉你该走哪条路
只是,在你的个人旅程中
你会遇到挑战
这些挑战将阻挡你继续前进并爬上那座山,其中一些甚至终止这趟旅行。
在少林寺,我们称其为五个障碍
五种障碍描述了不同的心理状态
在这些心理状态下,很难看清楚,因此很难做出正确的决定。
the first hindrance is called sensual desire
sensual desire arises in the moment when you are paying attention to something that is giving you a positive emotion
this positive emotion can originate from five gates of your body
seeing hearing smelling tasting or feeling
so in your mind you climb up that mountain
after one mile of walking you discover a beautiful restaurant surrounded by beautiful people
you smell delicious food and the great variety of beverages
when you follow that temptation you have already lost your track
when this temptation becomes so strong that you don't want to leave that place anymore
then the sensual desire has turned into an obsession
in both cases remaining at that place means you can't get clarity
CHINESE

第一种障碍,叫做感官欲望(肉欲)

感官欲望出现在当您专注于某些可以给您带来积极影响的时刻
这种积极的情绪可能来自您身体的五个门
视觉听觉嗅觉味觉或触觉

所以在你的心目中,你攀登那座山
经过一英里的步行,你会发现一个美丽的餐厅,周围都是美丽的人们
你闻到了美味的食物和各种饮料的香味

当你听从诱惑的时候,你已经迷失了方向
当这种诱惑变得强烈到你不想再离开那个地方的时候
然后,感官欲望变成了痴迷
两种情况下,你都是在那个地方呆着,那就意味着你不可能看得清晰
the second hindrance ill-will describes a state of the mind that arises from negative emotions
in that state of the mind you have an aversion a rejection or simply dislike against either object a situation or can be even a person
to simplify
it means you are climbing the mountain and it starts to rain but you don't like rain
you discover the roads are bumpy but you don't like bumpy roads
in order to cross the river you need to swim in fact you don't like swimming
whatever it is that you dislike, it won't make it a pleasant journey, unless you learn to let go of this ill-will
it's more likely even that you won't continue that journey
CHINESE

第二个障碍是"恶意",它描述了一种源自负面情绪的思想状态

在这种思想状态下,你有一种厌恶、排斥或或根本不喜欢的情绪,反对某种情况,甚至是一个人
简而言之,它的意思是
你在爬山的时候下起了雨,但你不喜欢下雨
你发现路是颠簸的,但你不喜欢颠簸的路
为了过河你需要游泳,事实上你并不喜欢游泳

无论您不喜欢什么,除非你学会放下这种恶意,否则它不会使旅途愉快。
更有可能连这段路都走不下去了
the third hindrance originally translated as loss and torpor
loss means it's the heaviness of the body
torpor means is the dullness of the mind
it is characterized by sleepiness, non motivation, lack of energy and oftentimes can manifest itself in a state of depression
now simile used in Buddhism describes it as imprisonment
you find yourself locked in a Cell
it becomes very hard to make any type of mental or physical effort
so in order to continue your path there is only one option left
you need to find a way to get out from that hole, from that cell
CHINESE

第三种障碍最初翻译为失落和麻木

失落是指身体的沉重感
麻木是指心灵的沉闷

它的特点是嗜睡,没有动力,缺乏能量,常常会表现为抑郁症状态

现在佛教中使用的比喻将其描述为监禁,
因为您发现自己被囚禁在牢房中,很难做出任何类型的精神或身体努力

所以,为了继续走你的路,只剩下一个选择
您需要找到一种方法摆脱困境,逃出那个牢房
now the fourth hindrance is called restlessness, it is the state of an unsettled mind
unsettled mind means your mind cannot settle
settle where
settle in the present moment
an unsettled mind either is worrying about the future
or traveling into the past and rejecting/judging about an event that happened into your past
a simile used here is
the monkey mind constantly jumping from one branch to another unable to stay for too long time at the present moment
the problem is there is no time to see clearly anymore
CHINESE

第四种障碍叫浮躁,就是心神不定的状态

心神不定是指你的心神无法安定下来
安定在哪里?
活在当下

一个浮躁的心,要么担心未来,
要么活在过去,拒绝或评判发生在你过去的事情

就像
猴子的思想不断地从一个分支跳到另一个分支,无法在此刻停留太长时间

问题是你再也没有时间去看清楚了
now the last of the five hindrances is called skeptical doubt
and it's very closely related to a state of mind which is based on indecisiveness
it is very easy in that state of mind getting lost in thoughts
can I do this
is this the right path
what will the others say
what if this what if that
the mind cannot synchronize with your own actions anymore
and the result is that you are getting disconnected with the goals and aspirations that once you have said to yourself
when the way is filled with too much doubts
more often you will stop instead of moving on
CHINESE

第五种障碍,也是最后一种,被称为过分怀疑
这与优柔寡断的心态有很大关系

在那种精神状态下很容易迷失在各种想法中
可以这样做吗
这是一条正确的道路吗
别人会怎么说
若是这样若是那样
思想再也无法与自己的行为保持同步

结果就是,你与自己曾经说过目标和愿望脱节了
疑虑重重时,你往往会停下来而不是继续前进
that we know the five hindrances now
what are we going to do about them
you need to align and structure your life in such a way to prevent those hindrances from arising
if you are not successful you need to use techniques in order to remove them
each of these hindrances is placing a dark cloud on your mind or on the way of your climb
simply remember one thing: just let it RAIN
this is a four-step method to help you removing those hindrances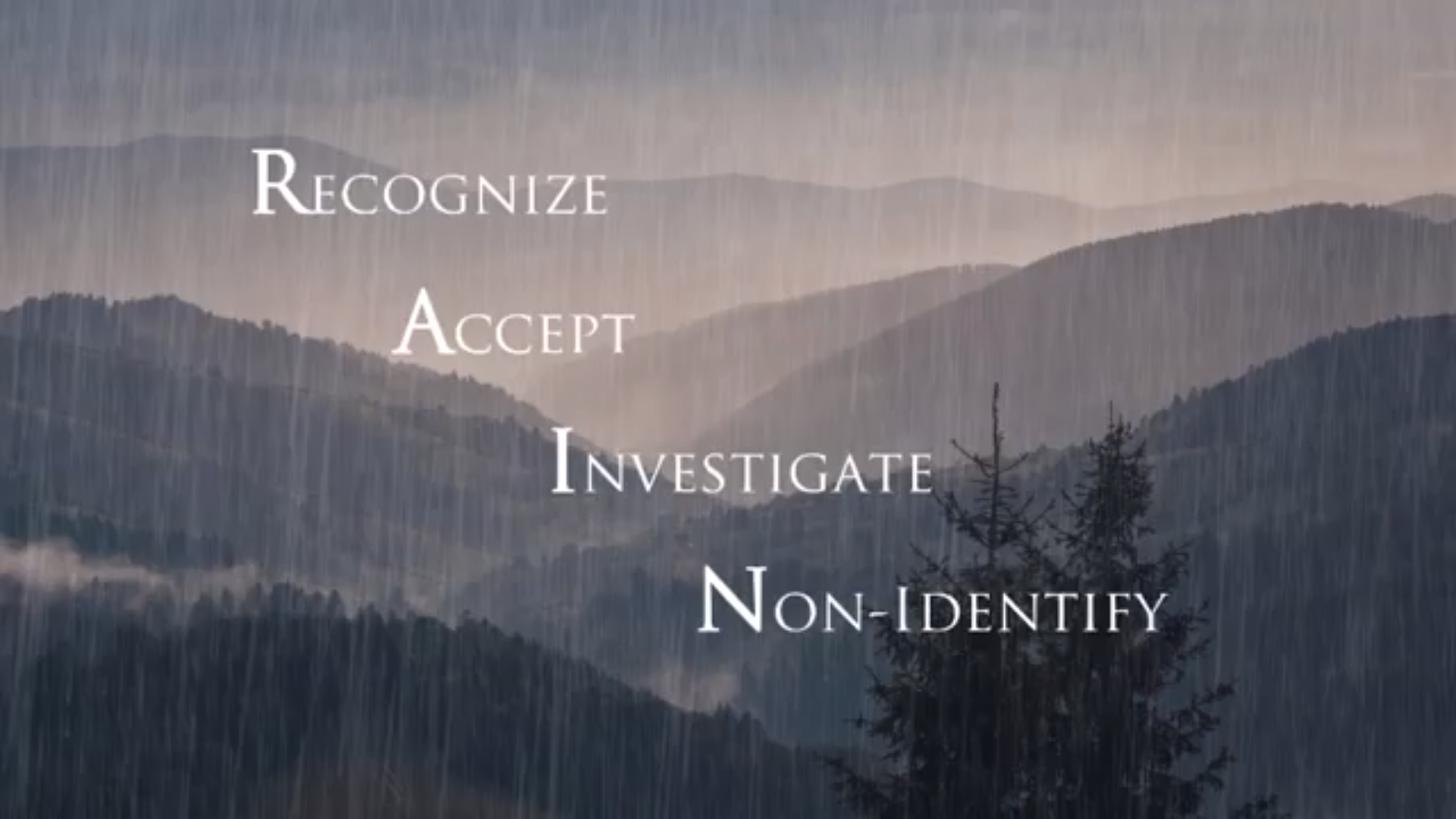 the first step is Recognized in what state of the mind you are finding yourself in
afterwards learn to Accept, Acknowledge and Allow the situation or a person to be the way how it is, to be the way how they are
Investigate your emotional and mental state and ask questions
why did it come up
what is going to be the consequence if I remain in that state
and ultimately Non-identification means it is the practice
I am NOT the body
I am not the mind
I am not my emotion
it's just that I can see all these three aspects about me
CHINESE

现在我们知道了这五种障碍
我们将如何处理他们

你需要调整和安排你的生活,以防止这些障碍的的发生
如果你没有成功,你需要使用技巧来消除它们
这些障碍中的每一个都会在你的思想或攀登道路上蒙上乌云

只要记住一点:随它吧,随它吧,让雨自然的下。
这是一个四步法(RAIN),帮你消除这些障碍

第一步是「认识」到自己处于什么样的心理状态
然后学习「接受、承认和允许」情况或人的本来面目,这就是他们的现状
「调查」你的情绪和精神状态,并提出问题
为什么会出现
如果我一直处于这种状态,会有什么后果?
最终的「不识别」是一个练习(让练习者将意识从大脑中抽离出来)
我不是身体
我不是头脑
我不是我的情绪

我只是看到了我的这三个方面
all of our lifetimes
all of our lives are too unique
to copy the past from someone else
to bring meaning to your life
to bring value into your life
you need to learn and master yourself
and don't let the hindrances stop you
if any of you chooses to climb that path, to clarity
I will be very happy to meet you at the peak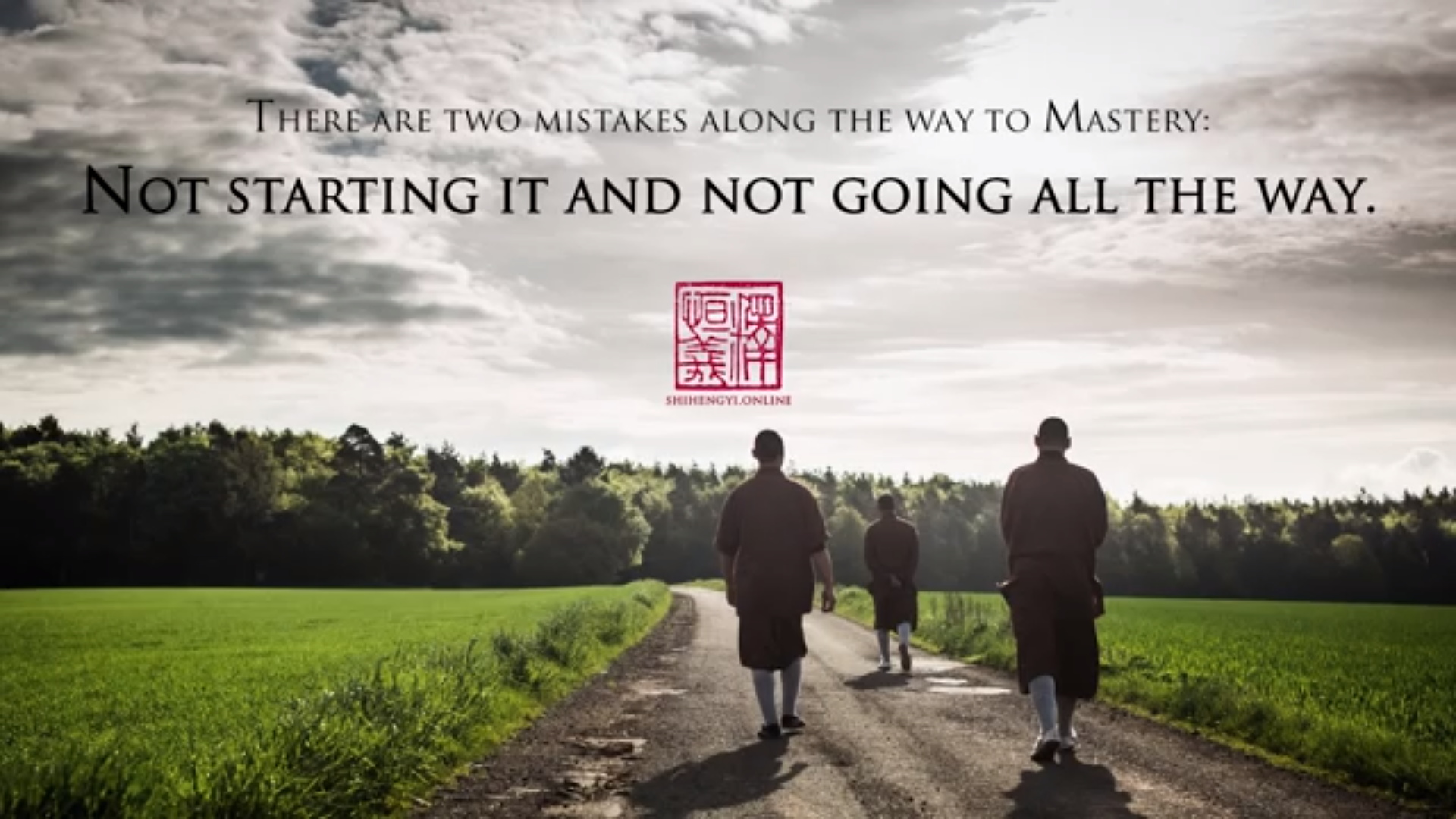 CHINESE

人的一生就是一趟旅行
每个生命都太独特了

借鉴别人的过往经验
为你的生活带来意义
为你的生活带来价值

您需要学习和掌握自己
不要让障碍阻挡你

你们中的一些人选择沿着清晰的道路前进
我很乐意在山顶与你见面
---
Comments
﹀
Took some notes for myself and now sharing them for anyone who might find them valuable 😃
5 Hindrances to Self-Mastery
Sensual desire (sight/touch/taste/smell/hearing) = Am I addicted?
Ill will / aversion = Am I feeling a negative emotion?
Dullness / heaviness = Am I unmotivated?
Restlessness = Is my mind jumping from though to thought?
Sceptical doubt = Am I indecisive?
Rain (is the solution)
Recognise which one you're experiencing
Accept that's what you're experiencing
Investigate why you're experiencing it
Non-identify with that experience: 'i am not the body, i am not the mind, i am not my emotion'
I wish the talk would go on for longer and if he could share stories of people overcoming each of them 😃
﹀
One of the best ted talk. The talk itself is a meditation.
﹀
I should apply Shaolin Kung Fu in daily life.
﹀
Few people develop this part of their lives. Our society values a beautiful car over a beautiful mind. What's the point of a beautiful car if you are restless and unhappy?
﹀
1st hindrance is what whole western lifestyle based on. Bruce Wayne even eastern society is based around the same things, just in different ways. People seem to be the same all around, aside from cultures we all overthink, get addicted etc. otherwise they wouldn't have came up with this philosophy.

寻找知识的源头,探索宇宙的奥秘。
知识的存放地址:人的大脑里、书里、互联网上、自然界里。
获取知识的最优路径:精品课程 > 精品书籍 > 官方文档 > 优质文章 > 与人交流(互为补充,构建知识体系)。
内外兼修,形神合一。

posted on 2020-04-20 20:43 keatonlao 阅读(2442) 评论(0) 编辑 收藏 举报