备注:如果标记为了国际学生,则有95%的概率为中国学生,可能偶尔夹杂着一两个印度人。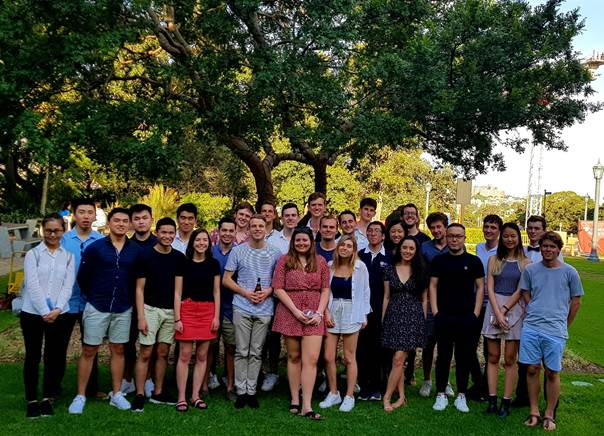 2018 4th Year Economics Honours Class

2013-2018 Economics Honours Students Initial Graduate Placements

Total Hires

Law Students

International Students

Position

PRIVATE SECTOR OTHER THAN LAW

5

2

McKinsey & Company

5

BIS Oxford Economics

4

3

Bain & Company

4

2

Deloitte

3

1

Deloitte Access Economics

3

PWC

2

Commonwealth Bank

2

EY (Tax Services; DnA)

2

HoustonKemp Economists (Economics Consulting)

2

JP Morgan (Fixed Income and FX; Markets Division)

2

1

LEK Consulting

1

AlphaBeta Advisors (Strategy and Economic Consulting)

1

AMP Capital

1

ANZ Bank (FX Strategy)

1

ASG Group

1

BDO (Corporate Finance Analyst)

1

Bloomberg LP

1

Boston Consulting Group

1

Brattle Group (Economic Consulting and Expert Testimony)

1

BT Financial Group

1

1

CEG Asia Pacific (Management and Economic Consulting)

1

Centre for International Economics (The CIE) (Economist)

1

1

ChinaBond Pricing Center

1

Deutsche Bank

1

Energeia (Energy Consultancy)

1

Evans and Partners

1

Godfrey's Remuneration Group

1

1

Hankook Tyre Australia

1

Health Consult

1

Ikon Communications (Data Scientist)

1

1

Macquarie Bank

1

Macromonitor (Economic Consulting)

1

1

Maersk Broker, Singapore

1

1

Mainstream Group (Portfolio Analyst)

1

1

Mercer (Investment Analyst)

1

National Australia Bank

1

1

Sino-Ocean Group (Real Estate)

1

Societe Generale

1

1

UBS (FX trading)

1

1

Urbis

1

Workshop/APD (HR role, New York)

LAW

3

3

Allens

1

1

Clayton Utz

1

1

Herbert Smith Freehills

1

1

K&L Gates

1

1

Kay and Hughes

1

1

Norton Rose Fulbright

PUBLIC SECTOR

15

1

Reserve Bank of Australia

5

Australian Treasury

4

APRA

3

1

ACCC

2

NSW Treasury

1

1

Australia and New Zealand School of Government (Policy Analyst)

1

Australian Bureau of Statistics

1

Australian Energy Market Operator (Economist)

1

Department of Defence

1

Productivity Commission

1

1

Singapore Ministry of Defence

1

WaterNSW (Regulatory Analyst)

FURTHER EDUCATION

10

10

Continuing Law Studies at University of Sydney

1

Medicine Studies at University of Sydney

2

1

PhD in Economics at University of Sydney

1

1

PhD in Economics at Boston College

1

1

PhD in Economics at Boston University

1

PhD in Economics at Harvard University

1

PhD in Economics at University of California, Berkeley

1

1

PhD in Economics at Yale University

2

2

MA in Computational Social Science, University of Chicago

1

1

MA in Global Development Economics, Boston University

1

1

MA in International and Development Economics, Yale University

1

1

Master of Data Science, University of Sydney

1

Master of Finance, MIT Sloan School of Management

1

1

MPhil in Economics, Cambridge University

1

1

MPhil in Economics, University of Oxford

1

1

MPhil in Operations Research, University of Cambridge

1

1

MSc in Environmental Change and Management, University of Oxford

1

1

MSc in Health Economics and Policy, Cornell University

1

1

Pre-Doctoral Research Fellow, Opportunity Insights, Harvard University

2

1

1

Unknown

140

29

27

Total
Economics Honours and Mathematics
The mathematics required to succeed in Economics Honours consists mainly of differential calculus (including multivariate), some integral calculus, optimisation (including constrained optimisation), linear algebra, and probability. We teach needed concepts in ECOS2903, but you should enter that unit already comfortable with functions and differential calculus. ECOS2903 (or MATH2070/2970) is a pre-requisite unit for ECOS3901 and ECOS3902. MATH2070/2970 is an alternative pre-requisite unit for Honours available to students studying MATH. Not only do students need to be able to work under exam conditions with these tools, but in ECOS2903 Mathematical Economics A they will need to be able to apply them to solve problems in economics that may be drawn from any concept taught in introductory economics courses OR from intermediate microeconomics. The mathematical concepts are not studied in isolation from economics. You should take ECOS2903 at the same time as ECOS2901, unless you plan to take MATH2070/2970 at the same time as ECOS2902. I recently analysed results for students who ignored this advice and took ECOS2901 and ECOS2902 without taking either ECOS2903 or math units in the School of Mathematics; their marks suffered by around 6-7 percentage points in each unit. These students actually had better first-year results than the students who did take ECOS2903 or MATH units, but worse second-year results. Mathematics study is an investment that helps performance in Economics Honours.
To succeed in ECOS2903 students will need to be comfortable with functions and differential calculus. If your high-school mathematics courses have not well prepared you for this, then I STRONGLY ADVISE you to prepare beforehand, as the pace of a 13-week course may leave you behind. Your options at Sydney vary by semester (there are more options in Semester 1) and include:
1. You should check on bridging courses and online materials available at the Mathematics Learning Centre: http://sydney.edu.au/stuserv/maths_learning_centre/MBC.shtml. Enrolment in bridging courses normally closes in very early February.
2. MATH1111 is offered in Semester 1. It is probably the best introductory MATH option for students with limited high-school mathematics preparation. This unit is now offered as a free MOOC through Coursera.org: https://www.coursera.org/learn/introduction-to-calculus .
3. Some students adopt the strategy of simultaneously enrolling in ECON1003 and ECOS2903, giving them more time to study mathematical economics concepts. Some also do this but intend to drop one of these two subjects before the HECS census date, depending on their comfort-level with the material.
4. For students with a stronger high-school math background and an interest in mathematics, the entire junior MATH program can be found at: http://www.maths.usyd.edu.au/u/UG/JM/
Mathematics is especially useful for advanced study in some fields of economics and in econometrics. For students wishing to prepare for advanced graduate study in economics, taking more mathematics is desirable though not essential. In particular, many US PhD programs in economics like incoming students to have taken a "real analysis" course, though most do not insist on this. Currently, MATH2023/2923 is the best available course for this purpose. Intermediate-level study in calculus or algebra is also very useful. I am happy to further discuss math study possibilities for students interested in this path, as are many of your economics or econometrics instructors.