The Problem
索引一直是优化查询性能的不二法门。其中一个最直接的问题便是当审查一个低性能查询语句时,检查索引是否在正确的地方或者加索引没有。运行一个batchjob查看索引碎片,必要时采取步骤优化索引碎片是日常维护程序中不可缺少的。

今天的主题便是如何判定数据库中的索引碎片和优化措施
我们经常会用到sys.dm_db_index_physical_stats表来查看索引信息
示例:
USE

 AdventureWorks2014


GO





DECLARE

 

@database_name

 

VARCHAR

(

100

) 

=

 

'

AdventureWorks2014

'

;


SELECT

  SD.name 

AS

 database_name ,
        SO.name 

AS

 

object_name

 ,
        SI.name 

AS

 index_name ,
        IPS.index_type_desc ,
        IPS.page_count ,
        IPS.avg_fragmentation_in_percent


FROM

    sys.dm_db_index_physical_stats(

NULL

, 

NULL

, 

NULL

, 

NULL

, 

NULL

) IPS
        

INNER

 

JOIN

 sys.databases SD 

ON

 SD.database_id 

=

 IPS.database_id
        

INNER

 

JOIN

 sys.indexes SI 

ON

 SI.index_id 

=

 IPS.index_id
        

INNER

 

JOIN

 sys.objects SO 

ON

 SO.

object_id

 

=

 SI.

object_id


                                     

AND

 IPS.

object_id

 

=

 SO.

object_id




WHERE

   alloc_unit_type_desc 

=

 

'

IN_ROW_DATA

'


        

AND

 index_level 

=

 

0


        

AND

 SD.name 

=

 

@database_name




ORDER

 

BY

 IPS.avg_fragmentation_in_percent 

DESC

;
View Code
当知道索引碎片信息以后,我们应该如何优化呢?或者在任何数据库中查看索引碎片和优化呢?
The Solution
优化索引有两种方案

Index Rebuild:

When an index is rebuilt , it is completely replaced with a new copy of the index, built from scratch as though
it were just newly created. In SQL Server Standard edition, this is an offline operation, meaning that it can
cause contention while running.

Index Reorganization:

Reorganizing an index results in cleanup at the leaf level, reordering pages and reapplying the fill factor as
necessary. This operation is always online, regardless of the edition of SQL Server you are running and can
be interrupted at any time with no ill effects.
现在我们通过百分比来判定索引是rebulid还是reorganization
IF

 

OBJECT_ID

(

'

dbo.index_maintenance_demo

'

,

'

P

'

) 

IS

 

NOT

 

NULL




BEGIN


    

DROP

 

PROCEDURE

 dbo.index_maintenance_demo;


END





SET

 ANSI_NULLS 

ON




GO




SET

 QUOTED_IDENTIFIER 

ON




GO





CREATE

 

PROCEDURE

 dbo.index_maintenance_demo
    

@reorganization_percentage

 

TINYINT

 

=

 

10

 ,
    

@rebuild_percentage

 

TINYINT

 

=

 

35

 ,
    

@print_results_only

 

BIT

 

=

 

1




AS

 
    

BEGIN


        

DECLARE

 

@sql_command

 

NVARCHAR

(

MAX

) 

=

 

''

;
        

DECLARE

 

@parameter_list

 

NVARCHAR

(

MAX

) 

=

 

'

@reorganization_percentage TINYINT, @rebuild_percentage TINYINT

'


        

DECLARE

 

@database_name

 

NVARCHAR

(

MAX

);
        

DECLARE

 

@database_list

 

TABLE


            (
              database_name 

NVARCHAR

(

MAX

) 

NOT

 

NULL


            );
        

INSERT

  

INTO

 

@database_list


                ( database_name
                )
                

SELECT

  name
                

FROM

    sys.databases
                

WHERE

   databases.name 

NOT

 

IN

 ( 

'

msdb

'

, 

'

master

'

, 

'

TempDB

'

,
                                                

'

model

'

,

'

ReportServer$SQL2014

'

 );
        

CREATE

 

TABLE

 #index_maintenance
            (
              database_name 

NVARCHAR

(

MAX

) ,
              schema_name 

NVARCHAR

(

MAX

) ,
              

object_name

 

NVARCHAR

(

MAX

) ,
              index_name 

NVARCHAR

(

MAX

) ,
              index_type_desc 

NVARCHAR

(

MAX

) ,
              page_count 

BIGINT

 ,
              avg_fragmentation_in_percent 

FLOAT

 ,
              index_operation 

NVARCHAR

(

MAX

)
            );

        

SELECT

  

@sql_command

 

=

 

@sql_command

 

+

 

'


USE [

'

 

+

 database_name 

+

 

'

]

INSERT  INTO #index_maintenance
        ( database_name ,
          schema_name ,
          object_name ,
          index_name ,
          index_type_desc ,
          page_count ,
          avg_fragmentation_in_percent ,
          index_operation
        )
        SELECT  CAST(SD.name AS NVARCHAR(MAX)) AS database_name ,
                CAST(SS.name AS NVARCHAR(MAX)) AS schema_name ,
                CAST(SO.name AS NVARCHAR(MAX)) AS object_name ,
                CAST(SI.name AS NVARCHAR(MAX)) AS index_name ,
                IPS.index_type_desc ,
                IPS.page_count ,
                -- Be sure to filter as much as possible...this can return a lot of data if you dont filter by database and table.
                IPS.avg_fragmentation_in_percent , 
                CAST(CASE WHEN IPS.avg_fragmentation_in_percent >= @rebuild_percentage
                          THEN 

''

REBUILD

''


                          WHEN IPS.avg_fragmentation_in_percent >= @reorganization_percentage
                          THEN 

''

REORGANIZE

''


                     END AS NVARCHAR(MAX)) AS index_operation
        FROM    sys.dm_db_index_physical_stats(NULL, NULL, NULL, NULL, NULL) IPS
                INNER JOIN sys.databases SD ON SD.database_id = IPS.database_id
                INNER JOIN sys.indexes SI ON SI.index_id = IPS.index_id
                INNER JOIN sys.objects SO ON SO.object_id = SI.object_id
                                             AND IPS.object_id = SO.object_id
                INNER JOIN sys.schemas SS ON SS.schema_id = SO.schema_id
        WHERE   alloc_unit_type_desc = 

''

IN_ROW_DATA

''


                AND index_level = 0
                AND SD.name = 

'''

 

+

 database_name 

+

 

'''


                AND IPS.avg_fragmentation_in_percent >= @reorganization_percentage
                AND SI.name IS NOT NULL -- Only review index, not heap data.
                AND SO.is_ms_shipped = 0 -- Do not perform maintenance on system objects
                ORDER BY SD.name ASC;

'


        

FROM

    

@database_list


        

WHERE

   database_name 

IN

 ( 

SELECT

    name    

FROM

    sys.databases );

        

EXEC

 sp_executesql 

@sql_command

, 

@parameter_list

,
            

@reorganization_percentage

, 

@rebuild_percentage

;
        
        

SELECT

  

@sql_command

 

=

 

''

;
        

SELECT

  

@sql_command

 

=

 

@sql_command

 

+

 

'

 
            USE 

'

 

+

  

QUOTENAME

(database_name) 

+

 

'

 
            ALTER INDEX 

'

 

+

 

QUOTENAME

(index_name) 

+

 

'

 ON 

'

 

+

 

QUOTENAME

(schema_name) 

+

 

'

.

'

 

+

 

QUOTENAME

(

object_name

) 

+

 

'

 

'


                

+

 index_operation 

+

 

'

;

'


        

FROM

    #index_maintenance;
        
        

SELECT

  

*


        

FROM

    #index_maintenance
        

ORDER

 

BY

 avg_fragmentation_in_percent 

DESC

;
        
        

IF

 

@print_results_only

 

=

 

1

 
        

BEGIN


            

PRINT

 

@sql_command

;
        

END


        

ELSE


        

BEGIN

 
            

EXEC

 sp_executesql 

@sql_command

;
        

END



        

DROP

 

TABLE

 #index_maintenance;
    

END




GO
View Code
然后运行SP得到以下结果
EXEC

 dbo.index_maintenance_demo 

@reorganization_percentage

 

=

 

10

, 

@rebuild_percentage

 

=

 

35

,


@print_results_only

 

=

 

1

;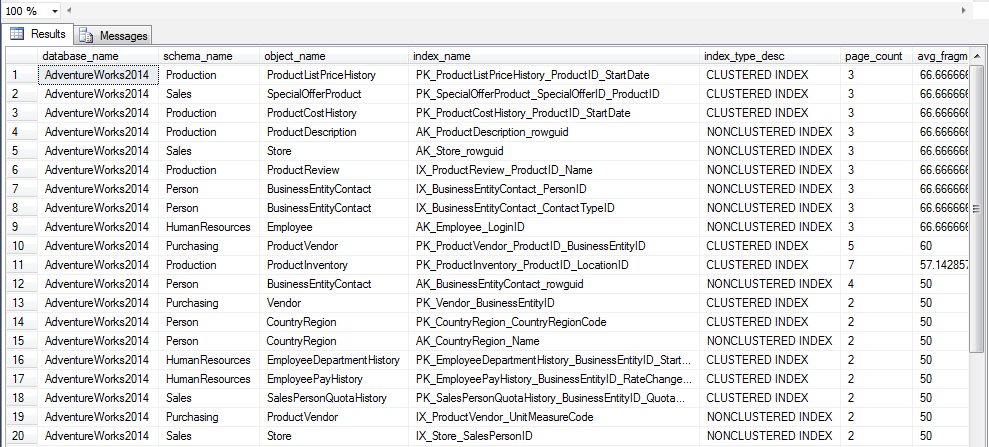 打印出来的SQL如下:
USE

 

[

AdventureWorks2014

]

 


ALTER

 

INDEX

 

[

PK_ProductCostHistory_ProductID_StartDate

]

 

ON

 

[

Production

]

.

[

ProductCostHistory

]

 REBUILD; 


USE

 

[

AdventureWorks2014

]

 


ALTER

 

INDEX

 

[

AK_ProductDescription_rowguid

]

 

ON

 

[

Production

]

.

[

ProductDescription

]

 REBUILD; 


USE

 

[

AdventureWorks2014

]

 


ALTER

 

INDEX

 

[

PK_DatabaseLog_DatabaseLogID

]

 

ON

 

[

dbo

]

.

[

DatabaseLog

]

 REBUILD; 


USE

 

[

AdventureWorks2014

]

 


ALTER

 

INDEX

 

[

PK_ProductInventory_ProductID_LocationID

]

 

ON

 

[

Production

]

.

[

ProductInventory

]

 REBUILD; 


USE

 

[

AdventureWorks2014

]

 


ALTER

 

INDEX

 

[

PK_ProductListPriceHistory_ProductID_StartDate

]

 

ON

 

[

Production

]

.

[

ProductListPriceHistory

]

 REBUILD; 


USE

 

[

AdventureWorks2014

]

 


ALTER

 

INDEX

 

[

PK_SpecialOfferProduct_SpecialOfferID_ProductID

]

 

ON

 

[

Sales

]

.

[

SpecialOfferProduct

]

 REBUILD; 


USE

 

[

AdventureWorks2014

]

 


ALTER

 

INDEX

 

[

AK_SpecialOfferProduct_rowguid

]

 

ON

 

[

Sales

]

.

[

SpecialOfferProduct

]

 REBUILD; 


USE

 

[

AdventureWorks2014

]

 


ALTER

 

INDEX

 

[

PK_StateProvince_StateProvinceID

]

 

ON

 

[

Person

]

.

[

StateProvince

]

 REBUILD; 


USE

 

[

AdventureWorks2014

]

 


ALTER

 

INDEX

 

[

PK_ProductModelProductDescriptionCulture_ProductModelID_ProductDescriptionID_CultureID

]

 

ON

 

[

Production

]

.

[

ProductModelProductDescriptionCulture

]

 REBUILD; 


USE

 

[

AdventureWorks2014

]

 


ALTER

 

INDEX

 

[

AK_BillOfMaterials_ProductAssemblyID_ComponentID_StartDate

]

 

ON

 

[

Production

]

.

[

BillOfMaterials

]

 REORGANIZE;
View Code
有了这个SP,以后我们的维护工作就轻便了许多。