From https://developer.android.com/reference/java/net/HttpURLConnection.html
HttpUrlConnection:
A URLConnection with support for HTTP-specific features. See the spec for details.
Uses of this class follow a pattern:
Obtain a new HttpURLConnection by calling URL.openConnection() and casting the result to HttpURLConnection.
Prepare the request. The primary property of a request is its URI. Request headers may also include metadata such as credentials, preferred content types, and session cookies.
Optionally upload a request body. Instances must be configured with setDoOutput(true) if they include a request body. Transmit data by writing to the stream returned by getOutputStream().
Read the response. Response headers typically include metadata such as the response body's content type and length, modified dates and session cookies. The response body may be read from the stream returned by getInputStream(). If the response has no body, that method returns an empty stream.
Disconnect. Once the response body has been read, the HttpURLConnection should be closed by calling disconnect(). Disconnecting releases the resources held by a connection so they may be closed or reused.
中文释义:
一个支持HTTP特定功能的URLConnection。
使用这个类遵循以下模式:
  1.通过调用URL.openConnection()来获得一个新的HttpURLConnection对象,并且将其结果强制转换为HttpURLConnection.
  2.准备请求。一个请求主要的参数是它的URI。请求头可能也包含元数据,例如证书,首选数据类型和会话cookies.
  3.可以选择性的上传一个请求体。HttpURLConnection实例必须设置setDoOutput(true),如果它包含一个请求体。通过将数据写入一个由getOutStream()返回的输出流来传输数据。
  4.读取响应。响应头通常包含元数据例如响应体的内容类型和长度,修改日期和会话cookies。响应体可以被由getInputStream返回的输入流读取。如果响应没有响应体,则该方法会返回一个空的流。
  5.关闭连接。一旦一个响应体已经被阅读后,HttpURLConnection 对象应该通过调用disconnect()关闭。断开连接会释放被一个connection占有的资源,这样它们就能被关闭或再次使用。
从上面的话以及最近的学习可以总结出:
关于HttpURLConnection的操作和使用,比较多的就是GET和POST两种了
主要的流程:
  创建URL实例,打开URLConnection
URL url=

new

 URL("http://www.baidu.com"

);
HttpURLConnection connection

= (HttpURLConnection) url.openConnection();
  设置连接参数
 常用方法:
  setDoInput
  setDoOutput
  setIfModifiedSince:设置缓存页面的最后修改时间(参考自:http://blog.csdn.net/stanleyqiu/article/details/7717235)
  setUseCaches
  setDefaultUseCaches
  setAllowUserInteraction
  setDefaultAllowUserInteraction
  setRequestMethod:HttpURLConnection默认给使用Get方法
  设置请求头参数
  常用方法: 
  setRequestProperty(key,value)  
  addRequestProperty(key,value)
  setRequestProperty和addRequestProperty的区别就是,setRequestProperty会覆盖已经存在的key的所有values,有清零重新赋值的作用。而addRequestProperty则是在原来key的基础上继续添加其他value。
  常用设置:
  设置请求数据类型:
connection.setRequestProperty("Content-type","application/x-javascript->json"

);//json格式数据

connection.addRequestProperty(

"Content-Type","application/x-www-form-urlencoded"

);//默认浏览器编码类型,http://www.cnblogs.com/taoys/archive/2010/12/30/1922186.html

connection.addRequestProperty(

"Content-Type","multipart/form-data;boundary="+boundary);//post请求,上传数据时的编码类型,并且指定了分隔符

Connection.setRequestProperty("Content-type", 

"application/x-java-serialized-object");

// 设定传送的内容类型是可序列化的java对象(如果不设此项,在传送序列化对象时,当WEB服务默认的不是这种类型时可能抛java.io.EOFException)
connection.addRequestProperty("Connection","Keep-Alive"

);//设置与服务器保持连接
connection.addRequestProperty(

"Charset","UTF-8");//设置字符编码类型
  连接并发送请求
  connect 
  getOutputStream
  在这里getOutStream会隐含的进行connect,所以也可以不调用connect
  获取响应数据
  getContent (https://my.oschina.net/zhanghc/blog/134591)
  getHeaderField:获取所有响应头字段
  getInputStream
  getErrorStream:若HTTP响应表明发送了错误,getInputStream将抛出IOException。调用getErrorStream读取错误响应。
实例:
  get请求:
public

 

static

 String get(){
        String message

=""

;
        

try

 {
            URL url

=

new

 URL("http://www.baidu.com"

);
            HttpURLConnection connection

=

 (HttpURLConnection) url.openConnection();
            connection.setRequestMethod(

"GET"

);
            connection.setConnectTimeout(

5*1000

);
            connection.connect();
            InputStream inputStream

=

connection.getInputStream();
            

byte

[] data=

new

 

byte

[1024

];
            StringBuffer sb

=

new

 StringBuffer();
            

int

 length=0

;
            

while

 ((length=inputStream.read(data))!=-1

){
                String s

=

new

 String(data, Charset.forName("utf-8"

));
                sb.append(s);
            }
            message

=

sb.toString();
            inputStream.close();
            connection.disconnect();
        } 

catch

 (Exception e) {
            e.printStackTrace();
        }
        

return

 message;
    }
  post请求:
public

 

static

 String post(){
        String message

=""

;
        

try

 {
            URL url

=

new

 URL("http://119.29.175.247/wikewechat/Admin/Login/login.html"

);
            HttpURLConnection connection

=

 (HttpURLConnection) url.openConnection();
            connection.setRequestMethod(

"POST"

);
            connection.setDoOutput(

true

);
            connection.setDoInput(

true

);
            connection.setUseCaches(

false

);
            connection.setConnectTimeout(

30000

);
            connection.setReadTimeout(

30000

);
            connection.setRequestProperty(

"Content-type","application/x-javascript->json"

);
            connection.connect();
            OutputStream outputStream

=

connection.getOutputStream();
            StringBuffer sb

=

new

 StringBuffer();
            sb.append(

"email="

);
            sb.append(

"409947972@qq.com&"

);
            sb.append(

"password="

);
            sb.append(

"1234&"

);
            sb.append(

"verify_code="

);
            sb.append(

"4fJ8"

);
            String param

=

sb.toString();
            outputStream.write(param.getBytes());
            outputStream.flush();
            outputStream.close();
            Log.d(

"ddddd","responseCode"+

connection.getResponseCode());
            InputStream inputStream

=

connection.getInputStream();
            

byte

[] data=

new

 

byte

[1024

];
            StringBuffer sb1

=

new

 StringBuffer();
            

int

 length=0

;
            

while

 ((length=inputStream.read(data))!=-1

){
                String s

=

new

 String(data, Charset.forName("utf-8"

));
                sb1.append(s);
            }
            message

=

sb1.toString();
            inputStream.close();
            connection.disconnect();
        } 

catch

 (Exception e) {
            e.printStackTrace();
        }
        

return

 message;
    }
下载文件或图片到外部存储:
public boolean isExternalStorageWritable(){
    String state= Environment.getExternalStorageState();
    if (Environment.MEDIA_MOUNTED.equals(state)){
        return true;
    }
    return false;
}
    private void doSDCard(){
        if (isExternalStorageWritable()){
            new Thread(){
                @Override
                public void run() {
                    try {
                        File file=new File(Environment.getExternalStoragePublicDirectory(Environment.DIRECTORY_PICTURES).getPath());
                        if (!file.exists()){
                            file.mkdirs();
                        }
                        File newFile=new File(file.getPath(),System.currentTimeMillis()+".jpg");
//                        newFile.createNewFile();
                        URL url = new URL("http://images.csdn.net/20150817/1.jpg");
                        HttpURLConnection connection = (HttpURLConnection) url.openConnection();
                        InputStream inputStream = connection.getInputStream();
                        FileOutputStream fileOutputStream = new FileOutputStream(newFile.getAbsolutePath());
                        byte[] bytes = new byte[1024];
                        int len = 0;
                        while ((len = inputStream.read(bytes)) != -1) {
                            fileOutputStream.write(bytes);
                        }
                        inputStream.close();
                        fileOutputStream.close();
                        connection.disconnect();
                    } catch (Exception e) {
                        e.printStackTrace();
                    }
                }

            }.start();
        }else {
            AlertDialog.Builder builder=new AlertDialog.Builder(this);
            builder.setMessage("外部存储不可用!");
            builder.create().show();
        }
    }
  post上传图片和表单数据:
public static String uploadFile(File file){
    String message="";
    String url="http://119.29.175.247/uploads.php";
    String boundary="7786948302";
    Map<String ,String> params=new HashMap<>();
    params.put("name","user");
    params.put("pass","123");
    try {
        URL url1=new URL(url);
        HttpURLConnection connection= (HttpURLConnection) url1.openConnection();
        connection.setRequestMethod("POST");
        connection.addRequestProperty("Connection","Keep-Alive");
        connection.addRequestProperty("Charset","UTF-8");
        connection.addRequestProperty("Content-Type","multipart/form-data;boundary="+boundary);
        // 设置是否向httpUrlConnection输出,因为这个是post请求,参数要放在
        // http正文内,因此需要设为true, 默认情况下是false;
        connection.setDoOutput(true);
        //设置是否从httpUrlConnection读入,默认情况下是true;
        connection.setDoInput(true);
        // Post 请求不能使用缓存  ?
        connection.setUseCaches(false);
        connection.setConnectTimeout(20000);
        DataOutputStream dataOutputStream=new DataOutputStream(connection.getOutputStream());
        FileInputStream fileInputStream=new FileInputStream(file);
    
        dataOutputStream.writeBytes("--"+boundary+"\r\n");
        // 设定传送的内容类型是可序列化的java对象
        // (如果不设此项,在传送序列化对象时,当WEB服务默认的不是这种类型时可能抛java.io.EOFException)
        dataOutputStream.writeBytes("Content-Disposition: form-data; name=\"file\"; filename=\""
                + URLEncoder.encode(file.getName(),"UTF-8")+"\"\r\n");
        dataOutputStream.writeBytes("\r\n");
        byte[] b=new byte[1024];
        while ((fileInputStream.read(b))!=-1){
            dataOutputStream.write(b);
        }
        dataOutputStream.writeBytes("\r\n");
        dataOutputStream.writeBytes("--"+boundary+"\r\n");
        try {
            Set<String > keySet=params.keySet();
            for (String param:keySet){
                dataOutputStream.writeBytes("Content-Disposition: form-data; name=\""
                        +encode(param)+"\"\r\n");
                dataOutputStream.writeBytes("\r\n");
                String value=params.get(param);
                dataOutputStream.writeBytes(encode(value)+"\r\n");
                dataOutputStream.writeBytes("--"+boundary+"\r\n");

            }
        }catch (Exception e){

        }

        InputStream inputStream=connection.getInputStream();
        byte[] data=new byte[1024];
        StringBuffer sb1=new StringBuffer();
        int length=0;
        while ((length=inputStream.read(data))!=-1){
            String s=new String(data, Charset.forName("utf-8"));
            sb1.append(s);
        }
        message=sb1.toString();
        inputStream.close();
        fileInputStream.close();
        dataOutputStream.close();
        connection.disconnect();
    } catch (Exception e) {
        e.printStackTrace();
    }
    return message;
}

private static String encode(String value) throws UnsupportedEncodingException {
    return URLEncoder.encode(value,"UTF-8");
}
这里需要指出:
通过chrome的开发工具截取的头信息可以看到: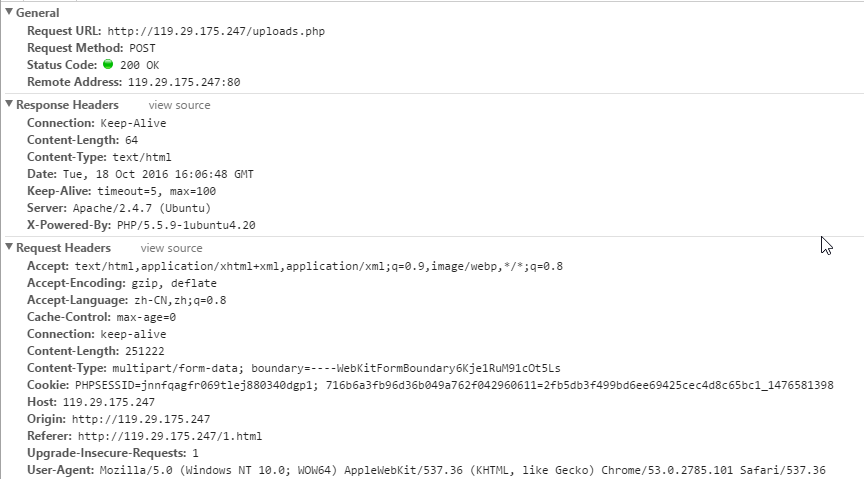 通过post上传数据时,若除了文本数据以外还要需要上传文件,则需要在指定每一条数据的Content-Disposition,name,若是文件还要指明filename,并在每条数据传输的后面用"--"加上boundary隔开,并且需要在第四行用"\r\n"换行符隔开,在最后一行也要用"--"加上boundary加上"--"隔开,否则会导致文件上传失败!
补充:
对于URLConnection,获取响应体数据的方法包括getContent和getInputStream
getInputStream上面已经提到,对于getContent的用法如下:
1、重写ContentHandler
2、实现ContentHandlerFactory接口,在createContentHandler方法中将重写的ContentHandler实例作为返回值返回
3、在HttpURLConnection.setContentHandlerFactory中实例化ContentHandlerFactory实例
代码如下:
public

 

class

 ContentHandlerFactoryImpl 

implements

 ContentHandlerFactory {

    @Override
    

public

 ContentHandler createContentHandler(String mimetype) {
        

if

 (mimetype==

null

){
            

return

 

new

 ContentHandlerImpl(

false

);
        }
        

return

 

new

 ContentHandlerImpl(

true

);
    }

    

class

 ContentHandlerImpl 

extends

 ContentHandler{

        

private

 

boolean

 transform=

false

;

        

public

 ContentHandlerImpl(

boolean

 transform){
            

this

.transform=

transform;
        }

        @Override
        

public

 Object getContent(URLConnection urlc) 

throws

 IOException {
            

if

 (!

transform){
                

return

 urlc.getInputStream();
            }

else

 {
                String encoding

=getEncoding(urlc.getHeaderField("Content-Type"

));
                

if

 (encoding==

null

){
                    encoding

="UTF-8"

;
                }
                BufferedReader reader

=

new

 BufferedReader(

new

 InputStreamReader(urlc.getInputStream(),encoding));
                String tmp

=

null

;
                StringBuffer content

=

new

 StringBuffer();
                

while

 ((tmp=reader.readLine())!=

null

){
                    content.append(tmp);
                }
                

return

 content.toString();
            }
        }
    }

    

private

 String getEncoding(String contentType){
        String [] headers

=contentType.split(";"

);
        

for

 (String header:headers){
            String [] params

=header.split("="

);
            

if

 (params.length==2

){
                

if

 (params[0].equals("charset"

)){
                    

return

 params[1

];
                }
            }
        }
        

return

 

null

;
    }
}
public

 

static

 String post(){
        String message

=""

;
        URL url

= 

null

;
        

try

 {
            url 

= 

new

 URL("http://127.0.0.1/test.php"

);
            HttpURLConnection connection

=

 (HttpURLConnection) url.openConnection();
            connection.setDoInput(

true

);
            connection.setDoOutput(

true

);
            connection.setRequestMethod(

"POST"

);
            connection.setUseCaches(

false

);
            connection.setConnectTimeout(

5*1000

);
            HttpURLConnection.setContentHandlerFactory(

new

 ContentHandlerFactoryImpl());
            connection.setRequestProperty(

"ContentType","application/x-www-form-urlencoded"

);
            OutputStream outputStream

=

connection.getOutputStream();
            StringBuffer stringBuffer

=

new

 StringBuffer();
            stringBuffer.append(

"user[name]="

);
            stringBuffer.append(

"user"

);
            stringBuffer.append(

"&user[pass]="

);
            stringBuffer.append(

"123"

);
            outputStream.write(stringBuffer.toString().getBytes());
            outputStream.flush();
            outputStream.close();
            Log.d(

"HttpUtil","responseMessage"+

connection.getResponseMessage());
            Map

<String ,List<String >> map=

connection.getHeaderFields();
            Set

<String> set=

map.keySet();
            

for

 (String  key:set){
                List

<String > list=

map.get(key);
                

for

 (String  value:list){
                    Log.d(

"HttpUtil","key="+key+"  value="+

value);
                }
            }
            message

=

 (String) connection.getContent();
            connection.disconnect();
        } 

catch

 (Exception e) {
            e.printStackTrace();
        }
        

return

 message;
    }
参考自:https://my.oschina.net/zhanghc/blog/134591