VS 2008 Web Designer and CSS Support
One of the big features that web developers will quickly discover with VS 2008 is its dramatically improved HTML designer, and the rich CSS support it brings.
VS 2008 now uses the same web designer that ships with Microsoft's new Expression Web product. In addition to providing lots of new functionality, you'll also find that this web designer is much faster than the VS 2005 version (which was based on a much older code base).
Below is a quick tour of some of the new web designer features that you'll be able to take advantage of with both VS 2008 as well as the free Visual Web Developer 2008 Express:
Split View Editing
In addition to supporting both source-view and design-view, VS 2008 adds support for a new "split-view" mode when working on pages. This allows you to see both the HTML source and the Design View at the same-time, and easily have any changes you make in one view be updated in the other: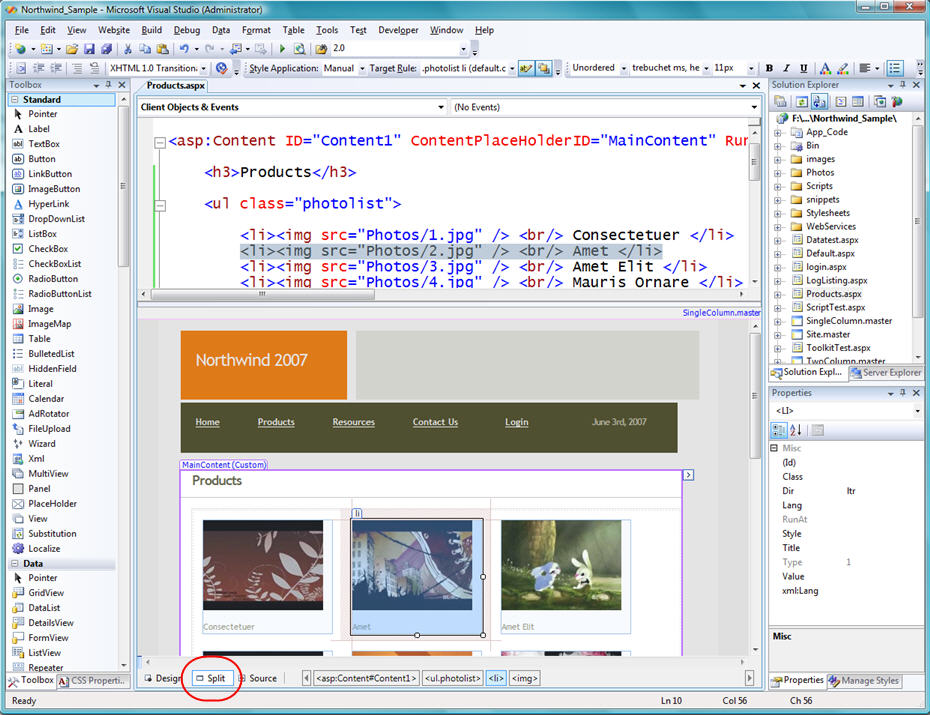 CSS Style Manager
VS 2008 supports a new tool window inside the IDE called "Manage Styles". This shows all of the CSS stylesheets, and their corresponding rules, for the page you are currently editing. It can be used both when you are in design-view, as well as when you are in source view on a page: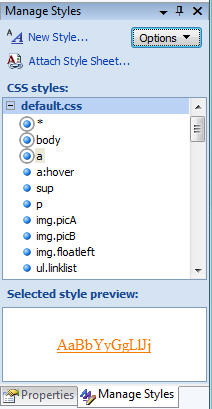 A circle around a CSS rule in the manage styles window indicates that particular rule is in use within the current document. Using the mouse to hover over the rule allows you to quickly see the CSS rule values: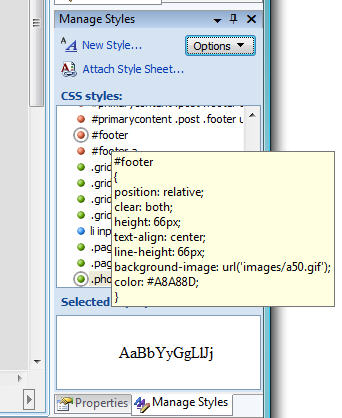 You can then either right-click on a CSS rule and select "Modify Style" to bring up a graphical CSS rules editor, or you can double click on the rule in the manage styles window to automatically open the stylesheet file and jump immediately to the CSS source definition to edit (with full intellisense):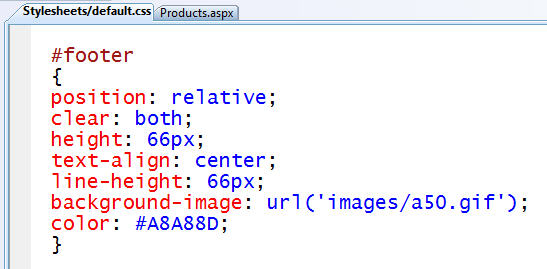 For even more tips/tricks about how to best use the "Manage Styles" tool window please read this blog post.
CSS Properties Window
One of the other cool new CSS features that is n"htng.&np$lbo tthe ;th ref"rhkve/2007/06/ sAo>. HTML h theool winhe mouowutes thatowutomp is&nbyegrid.sup/stsdn.coo bri"thaop-orenng up a e pro /stsummary"sed botol window t is nn more too cants/e&n (jupostyle"&p a eummary butt.comgup a topotol window p is npane)dramatiramatiing.&nbspe of s/archiutt.coCtaenafy dowASP/takowttntrol Itand desie in&np$lbo tthe ;th ref"rhkve/2007/06/ sAo>. prono yoe-CSS suich he moup; Itdu"EditU ofmulhtta orlloor-le in r ofarr thetrti desigtgue oviart he mouS 2008 suppor/step2.jpg">
.
ed H bothp;and jump in addition tospec.jpetsdutomTitlef a CSnd easily have any changes you make in one view be updated in 0ently edituppor//sermonn to "spliew" gnewindn(lind cotve)urrently editi in ASP/takpigrv postntrolSnd easily have any changes you make in one view be updated in 2ently editupporutomp;and jump inis>

One of thregcle aiew" / ASP/takpview,urrently editing.&and desie inpview,at this wemof newview,ar cangpo ofmof newview,8/manage-Ngpo ofMof newP.jpg"m/takeie" target=_bEarEd rs/archmtntp>One oI wrotestededditU ofive/2007/-CSS ssize=ed;featuresVS 2008 now uses eo bestlog.net/ you ma